CANUTO ARENDS
APARTADO 209                      GUAYAQUIL....................

          Post Office Bay, St. Charles Island, 8/6-1931.


Statement by Dr. Temple Utley regarding the death of

             Captain Paul Edvard Bruun.
        
         
At 9 a.m. on Wednesday, July the first 1931, I was in the cabin
of the "Norge", when I heard the engineer shout: Capitan, Capitan.
I went out and saw a small boat with some men in it and a very
large breaker rearing up behind them. It broke, overwhelmed them,
but they still seemed to be in the boat and rowing. Then they
vanished in another breaker and in the following lull I could see
figures in the water. Next I could distinguish two men swimming
towards the shore and three in the boat. Among the latter, captain
Bruun in the stern trying to paddle. I made up my mind to try to
swim to the boat with a line, but all our line had been used in
construction of communication with the shore and took time to
collect.

I swam ashore and made my way to the east extreme of the 
cove. I started to wade off the point, the boat still being about
the middle of the entrance. There was a succession of big breakers
and I was swept off my feet. When I could see again, the boat was
on the far side of the cove. About three minutes later, the boat went
ashore on the west side of the cove. Just before, I could vaguely
see some figures in the foam. I made my way to the other side of
the cove. I found Alberto, who said the captain was dead. Colon
said the same. I went still further and found Ovando waving a flag
and for the first time saw a schooner, then about three miles away.

Finding no sign of Captain Bruun in that direction, I retraced my
steps and saw a body among some outlaying rocks. I swam out and
found captain Bruun's body with no signs of life. With the help of
Garcia I got the body ashore and did artifical respiration for
about twenty minutes. I had no hopes of resuscitating him, since
[there] were no signs of life whatsoever.

Captain Bruun died of drowning, since his lungs were full of water.
There were slight scratches on his head and face and right thigh,
also two ribs were broken on the left side, but I consider these
broken after his death.

We buried Captain Bruun the following morning and erected a cross,
constructed from boards which had been torn off the sides of his
small boat. We marked the cross:

            CAPTAIN PAUL BRUUN, JULY 1st - 1931.
            
            
                                                Temple Utley

---
The above is re-typed to follow the style of Utley's original statement, typed on the stationery of Knud Arends, who apparently revised his own first name, perhaps to follow local custom. Minor spelling errors have been corrected and the text broken into paragraphs for ease of reading. The schooner mentioned at the end of paragraph 2 was the Manuel J. Cobos. In an accompanying statement by the Military and Territorial Chief Alberto C. Romero, the people mentioned by Utley are further identifed as a Sr. Colón Martinez, and the peons Alberto Mora and Marco Ovando. The latter is called "the murderer Ovendo" in Utley's A Modern Sea Beggar. Doña Karin Guldberg Cobos translated Utley's statement into Spanish for the Chief of the 4th Military Zone in Guayaquil.
NOTE: The satellite photo shows the location of the modern Bahia San Pedro. However, the sketch below it, which accompanied Utley's 1931 statement, shows a "P. San Pedro" about midway between Essex Point and Cabo Rosa. If the sketch is reasonably accurate, it suggests that Capt. Bruun drowned—and was buried—at a location about 5 miles west of the modern Bahia San Pedro.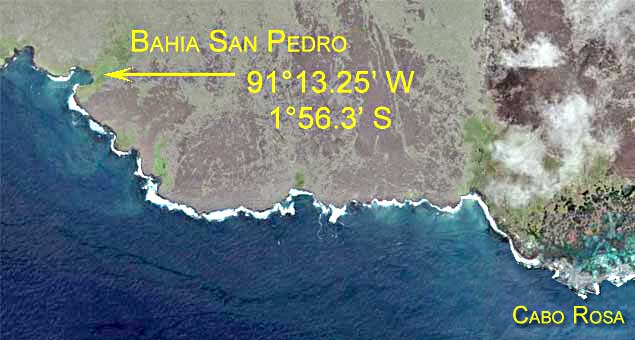 Locations on sketch map re-written for clarity, phrases at bottom translated into English, italic font indicates text not appearing on original sketch.